I love this video from Khan Academy:
This formed the basis for Jamlab's School of Open Africa event which also doubled up as a Maker Party event. We christened the event "Popjam".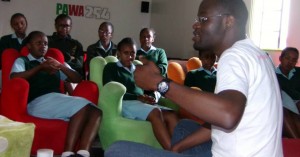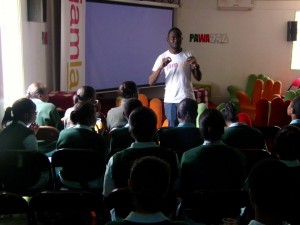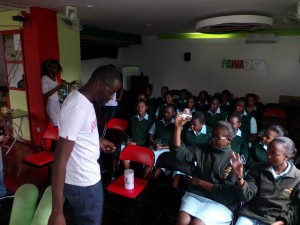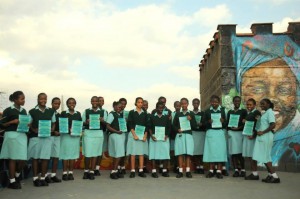 We hosted 20 girls from Precious Blood Secondary School, Riruta for the event. The goal was to work with these students to map out education as they currently experience it in their school and figure out how best to incorporate Open Education in their learning.
After a brief discussion, we mapped out learning and education activities as follows:
Lectures/Class instruction
Private study/prep
Group study
Revision of past examination papers
Student Symposiums
We asked them if we could add aspects of Open Education to this list. Very few of the students had heard about Open Education or understood its value at this point.
We discussed Open Education in a little more detail: We explored the concept of the commons, copyright and copyleft and how the Creative Commons suite of licenses has enabled the Open Education movement globally.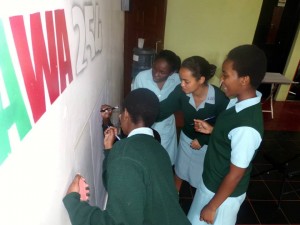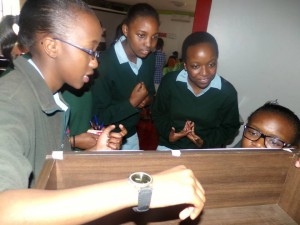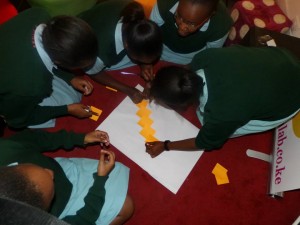 For most of the afternoon, the emphasis on the workshop centered on figuring out how the students could incorporate Open Education in their learning.
One of the themes that stood out is getting school administrations and teachers to understand and make an investment in Open Education. This will be Jamlab's focus in the coming year.
While we work with administrators and teachers, we encouraged students to begin to demonstrate the value of Open Education by creating demand for it in the following ways: consume OER's and integrate them in their learning, and pro-actively create and share OER's with other students from other schools.
Jamlab is committed to facilitating this.
Back to the video.
I think one thing we often forget to highlight when it comes to education is how we learn.
From the video, we learn to crawl, then stand on our two feet, then learn to take a few steps and sooner than later, we're running around at high speeds. We learn by building on what we already know. We believe Open Education is one sure way of building on what we already know to advance ourselves.
P.S – You can find all the pictures of this event on Jamlab's Facebook Page here: https://www.facebook.com/media/set/?set=a.514288322008233.1073741829.206076319496103&type=1&l=cf98ba6115
---
About Maker Party
School of Open and Creative Commons is excited to be partnering with Mozilla to celebrate teaching and learning the web with Maker Party. Through thousands of community-run events around the world, Maker Party unites educators, organizations and enthusiastic Internet users of all ages and skill levels.
We share Mozilla's belief that the web is a global public resource that's integral to modern life: it shapes how we learn, how we connect and how we communicate. But many of us don't understand its basic mechanics or what it means to be a citizen of the web. That's why we're supporting this global effort to teach web literacy through hands-on learning and making with Maker Party.
About the School of Open
The School of Open is a global community of volunteers focused on providing free education opportunities on the meaning, application, and impact of "openness" in the digital age and its benefit to creative endeavors, education, and research. Volunteers develop and run online courses, offline workshops, and real world training programs on topics such as Creative Commons licenses, open educational resources, and sharing creative works. The School of Open is coordinated by Creative Commons and P2PU, a peer learning community for developing and running free online courses.