In September, the School of Open Africa launched with nine programs distributed across four jurisdictions: Kenya, Tanzania, Nigeria, and South Africa. Kayode from CC Nigeria announced in the launch in August, and now we want to give you an update on how the programs (some ongoing) and launch events fared! We also want to preview more events to take place during Open Access Week and tell you our plans for the future of School of Open in Africa.
School of Open Kenya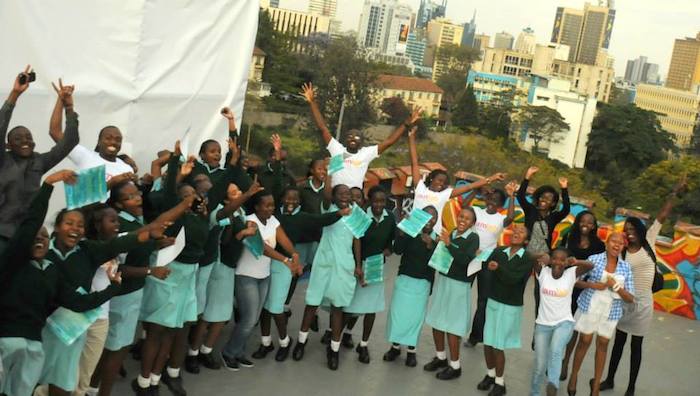 SOO Kenya Popjam / Jamlab / CC BY-SA
Simeon from Jamlab says, "We hosted 20 girls from Precious Blood Secondary School, Riruta for the [launch] event. The goal was to work with these students to map out education as they currently experience it in their school and figure out how best to incorporate Open Education in their learning. For most of the afternoon, the emphasis on the workshop centered on figuring out how the students could incorporate Open Education in their learning. After a brief discussion, we mapped out learning and education activities as follows:
Lectures/Class instruction
Private study/prep
Group study
Revision of past examination papers
Student Symposiums
We asked them if we could add aspects of Open Education to this list. Very few of the students had heard about Open Education or understood its value at this point. We discussed Open Education in a little more detail: We explored the concept of the commons, copyright and copyleft and how the Creative Commons suite of licenses has enabled the Open Education movement globally."
The future of SOO Kenya:
"One of the themes that stood out is getting school administrations and teachers to understand and make an investment in Open Education. This will be Jamlab's focus in the coming year. While we work with administrators and teachers, we encouraged students to begin to demonstrate the value of Open Education by creating demand for it in the following ways: consume OER's and integrate them in their learning, and pro-actively create and share OER's with other students from other schools."
School of Open Tanzania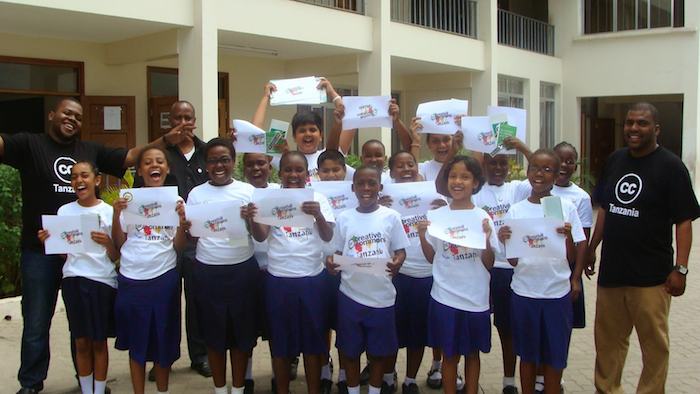 SOO Tanzania launch / CC Tanzania / CC BY
Paul from CC Tanzania says, "The program officially launched at Academic International Primary School (AIPS) in Dar es Salaam whereby 15 students from grades four to seven got the opportunity to learn how to code, designing animated picture (cartoons) by using open educational resources through the web."
The future of SOO Tanzania:
"The event also marked the launch of three other training programs around ICT empowerment training for unemployed youth, teaching persons with disabilities how to use computers, and training educators on using ICT to improve how they teach their students in Tanzania that will be coordinated by CC Tanzania and the Open University of Tanzania."
CC Tanzania will also highlight the importance of open access to research during Open Access Week in collaboration with the Tanzania Medical Students Association (TAMSA).
School of Open Nigeria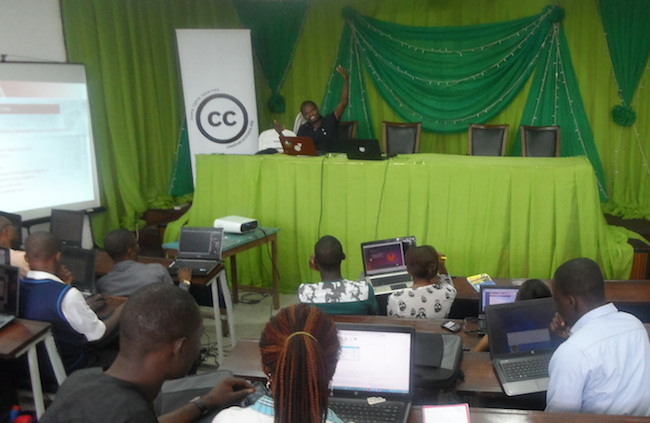 SOO Nigeria Saturday training / K-Why / CC BY
Kayode from CC Nigeria says, "Creative Commons Nigeria with support from Nigerian Institute of Advanced Legal Studies, Linux Professional Institute (Nigerian Master Affiliate) and Mozilla Foundation hosted the School of Open. The School of Open is a five week open course that holds every Saturday between 11am till 4pm. The first week started on September 13th with participants been trained on the basics of Intellectual Property, Linux Operating System and using simple Mozilla tools to design websites."
The future of SOO Nigeria:
The five-week programs wrapped over the weekend with a discussion on plans for sustaining the community. The next phase will be to take School of Open Nigeria online with the present participants acting as moderators. Meanwhile, people and institutions in two different states (Imo State and Obafemi Awolowo University, Osun State) have requested that Creative Commons Nigeria come replicate School of Open in their societies. The aim of School of Open Nigeria will be to have an online learning place where people can go to learn at any time without any cost or time restrictions.
School of Open South Africa


Kumusha Bus / WikiAfrica / CC BY-SA
Kelsey from CC South Africa says they already ran their School of Open CC4Kids course as part of Code4CT's Maker Party back in July, and since then have been planning the next phase of Kumusha Bus, aka Kumusha Bus 2.0, which is "a remix of Libre Bus and designed to ensure collaboration with local members of the open community to have a week of Open Movement chaos and fun that spreads the ideas behind the movement and gets more people and organisations involved in your country." Kumusha Bus is a collaboration of WikiAfrica, Creative Commons, and School of Open.
The future of SOO South Africa:
Kelsey & co are planning to expand CC4Kids into a full course pack designed to teach kids about Wikipedia, open journalism, open data, and open/citizen science. As part of this expansion, a session will be run at the upcoming Mozilla Festival called "OpenMe – Kids Can Open".
More about the future
School of Open Africa is hosting another event next week, 22 October, to launch its entrance into the higher education space. Four courses will be developed in collaboration with the C4DLab, the University of Nairobi's innovation hub, and will be licensed CC BY. The project is a response to ICT playing a critical role in expanding the knowledge economy of Africa; the OER will be developed by and for Africans; and the hope is to replicate the process in other universities. In addition, certificates will be awarded to participants of CC Kenya's CopyrightX satellite from earlier this year, a panel discussion on OER will be featured, and SOO Kenya will present its work to date. The event and C4DLab OER project is made possible with technical support from UNESCO and generous support from the Hewlett Foundation. Stay tuned for a more detailed announcement of this event next week!
At its core, School of Open is about equipping communities with the tools to help them do what they already do better. Creative Commons licenses and the open resources they enable empowers users around the world to, as Simeon of SOO Kenya says, "build on what we already know." He says,
I think one thing we often forget to highlight when it comes to education is how we learn… We learn by building on what we already know. We believe Open Education is one sure way of building on what we already know to advance ourselves.
We are seeking to expand School of Open to other regions, in and beyond Africa. The upcoming Mozilla Festival will feature a session on mapping School of Open programs from around the world and hone in on areas with maximum potential for impact — where we can "train the trainers" or otherwise empower student and educator communities to start up programs for themselves. Find out how you can get involved!