The following post was created in collaboration with members of the CC China Mainland Affiliate team and the School of Open community. Below is a description of the 2nd CC China Mainland open educational resources (OER) summer camp (30th June to 8th July 2014) for the children of Luxi Island, a remote island off the coast of China.
Why did we have the 2nd OER Summer Camp?
The summer of 2013 was special for the CC China Mainland team, Wenzhou Medical University and Guokr.com. These three parties co-hosted OER summer camp which was successfully initiated on Luxi Island. For Wenzhou Medical University, the summer camp has already been a part of its routine volunteering activities for five consecutive years. But it's the first time for them to connect such a camp with the CC China Mainland Project. The latter, to their surprise, brought something fresh this time; a real world OER activity in rural China took shape.
The first OER summer camp received great feedback, not only from volunteers of Wenzhou Medical University that participated, but from the officials of Luxi Island, and more importantly, from the students of Luxi Public School.
Can we create some OER courses?
The first successful but not flawless camp greatly encouraged us to hold the second one. We thought there was a lot of room for improvement, especially that more CC-licensed OER should be included. In addition to OER available online, we wondered if we could make some interesting online courses ourselves for the kids within our reach. And based on feedback, "How to make herbarium" was regarded as the most interesting course during the first camp.
"We hope to make a difference," said volunteers from Wenzhou Medical University. "why not make some courses based on our knowledge as medical students? We believe that would be more interesting and flexible."
What courses did we create?
All preparations went smoothly by volunteers, days before the launch of the camp. Wenzhou Medical University's student center, which provides opportunities for students to start small businesses within the campus, happened to have a photography studio. Undoubtedly, it was chosen to be our "OER course studio" for making videos of the courses. About 12 volunteers participated and 16 different courses were recorded, of which 14 were used, including:
1. The introduction of traffic signs (video)
2. Comprehensive water treatment, namely sewage treatment, flood prevention, drainage, water supply and water saving. The course was concentrated on how to identify water quality (video)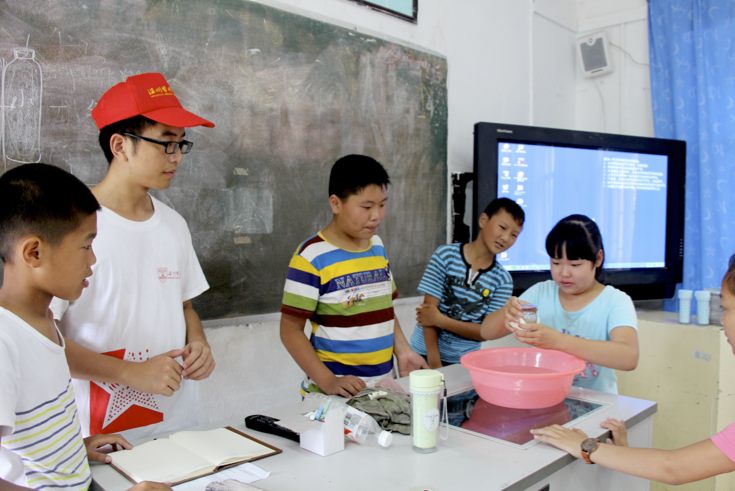 ZHU Renkai / CC BY
3. Interesting Japanese language (video)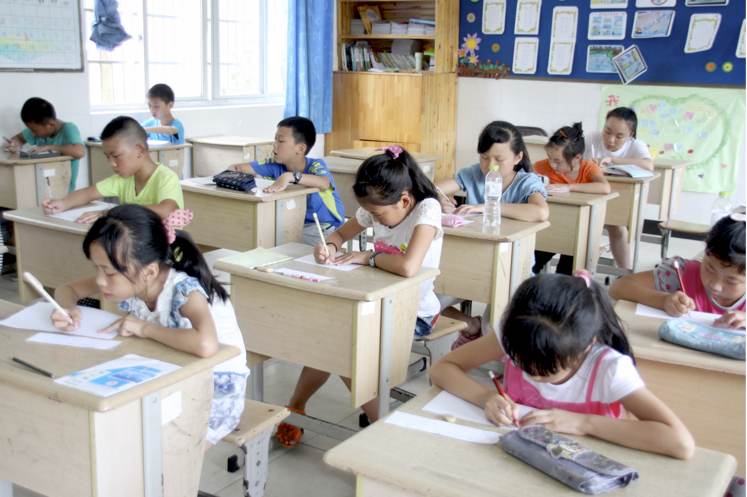 WANG Hongying / CC BY
4. Traditional Chinese handwork: stamp, tri-colored glazed pottery of the Tang Dynasty and blue and white porcelain. The courses teach students aged from 11-13, on how to create this handwork.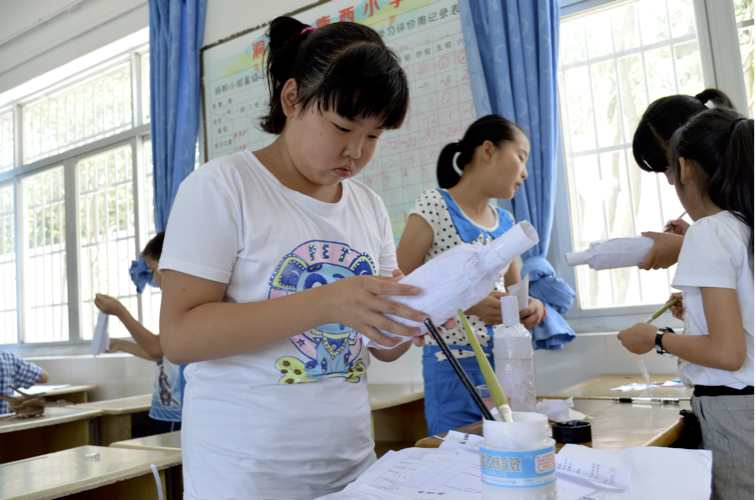 WAN Yu / CC BY
5. Interesting Traditional Chinese Medicine: introduce some basic knowledge about TCM, which is relevant to students daily lives. (video)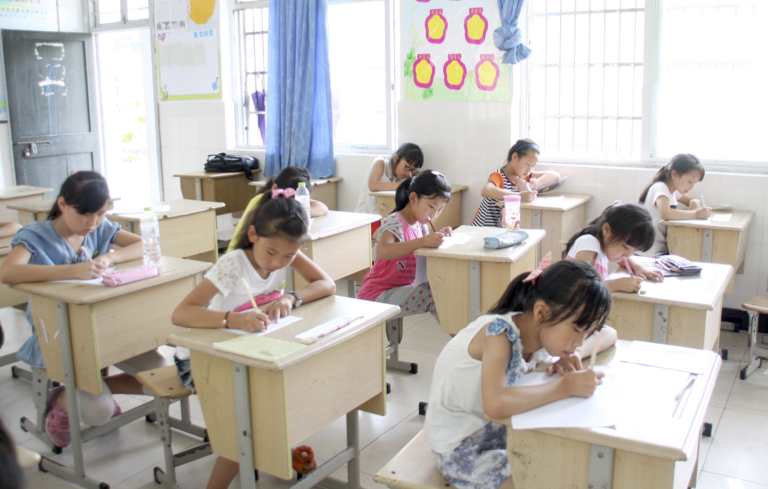 WANG Hongying / CC BY
6. Interesting history: the introduction of some historical events which had significant impact on China. (video)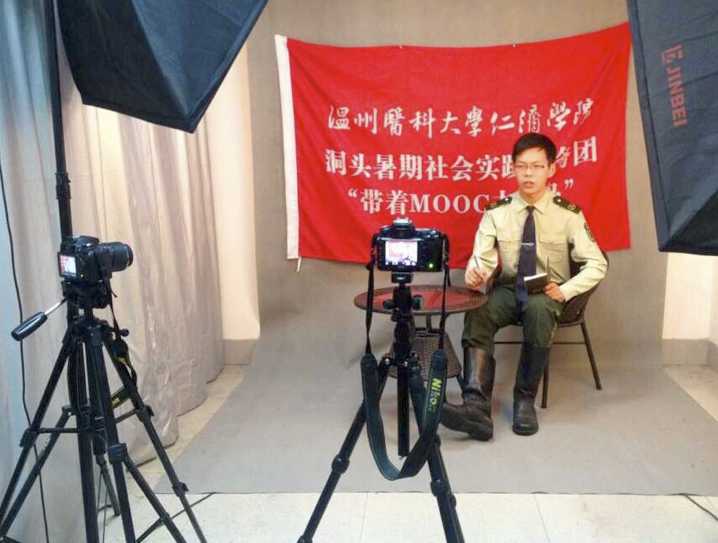 ZHU Renkai / CC BY
7. Presentation skills: How to give a presentation or host an event? How to present yourself in front of people with confidence? (video)
8. Course for senior citizens on the island: including some basic knowledge of labor contract if any of their family members are immigrant workers in other provinces; living knowledge such as why some vegetables can't be cooked together etc.
(video)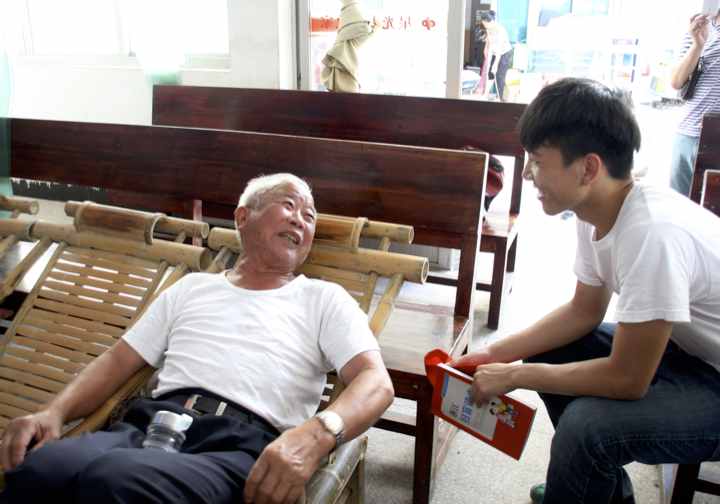 WANG Hongying / CC BY
9. Pink ribbon: the course was designed for females on the island by Wenzhou Medical University volunteers. The presenter is a Clinical Medicine Science major student; she introduces relevant knowledge of breast cancer, including how to prevent it from happening. (video)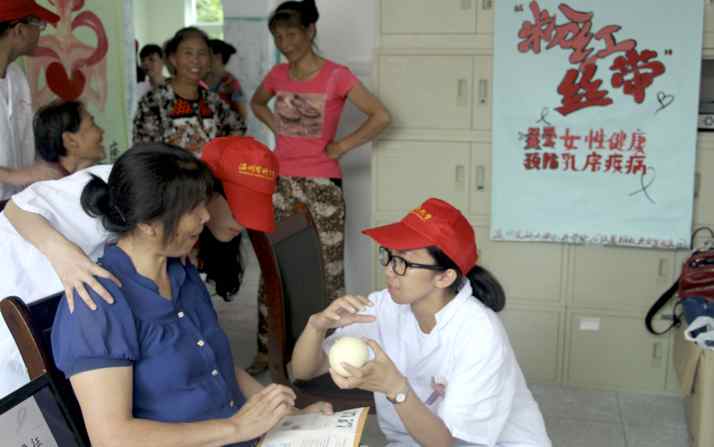 YANG Jiayi / CC BY
10. Muscle-bone strengthening exercise: Through proper adjustment in human body and correct method for breath (muscle, bone etc.), the exercise can help to improve blood circulation and the functions of internal organs of the body (heart, spleen, liver, lungs and kidneys). (video)
11. Interesting Oral English: Mr. Percy provides kids with some simple and easy oral English. (video)
12. MOOC from Guokr: how to select good quality fruit? A special designed course for kids (link)
Feedback from Participants of the 2nd Luxi Summer Camp
Students' comments on the OER summer camp:
CHEN Xinhao, Grade One:
We had many different courses, and learnt a lot from our teachers. Besides, discipline plays a big role in our classes. I learnt how to be strong, even if being injured, I didn't cry. Teachers cared us a lot and we can feel the love from their hearts. Maybe next time, we can have more classified courses based on our exiting knowledge. I sincerely hope that they can come again; we really like all these teachers.
CHEN Yanjie, Grade Four:
I enjoyed my stay with teachers, from their daily lives, I learnt how to be strong, independent and insistent on my dreams. Teachers gave us so many supports and encouragement. Same time, I got to know my weak points and believe that I can always do better. I really hope they can come and visit us next summer, by binging knowledge and happiness. I like my teachers.
MIAO Xiaoting, Grade Four:
Though I can't fully understand the class, I think all classes are great and interesting. Teachers really tried hard to explain us. I like this kind of teaching and will try my best to learn in future. I enjoyed the play time with teachers after class. It's funny to play games and take photos together. So many unforgettable moments. I hope all of them can come back next summer. I love them! In order to provide us good classed, teachers' preparation task lasted late at night and got up early in the morning. I hope they can have good rest after back home.
ZHENG Ruize, Grade Six:
One of the important things I learnt from these teachers is always be diligent, humble and hard work. I believe that I can walk out of this island and get to know the world outside. Now I'm on Grade Six, and will be in mid school soon. I think I will work harder in future and let myself become an excellent student with the days to come. I really hope after grow-up, I can back to the island with teacher, to support more kids in this island. I hope all teachers would take good care of themselves. I like them all and look forward to seeing them again with diversified courses.
Volunteers' comments on OER summer camp:
QIN Xu, age 19, major in Law:
The most impressive thing happened in summer camp is the process of making courses. It's a very interesting to be a teacher for others. Besides, team work always makes things earlier to proceed and get diversified thoughts on how to do it. Personally, to being a teacher in front of so many students in different ages made me overcome the fear in facing a camera, become more confident.
PAN Yixiu, age 19, major in Traditional Chinese Medicine:
After being a volunteer for the summer camp, I understand that when kids made mistakes, the last thing to do is to blame them, but let them know why this is not the right thing to do. Taking a trans-positional consideration always helps in communications. As a teacher, we should encourage, praise them, other than criticize or disappoint them. Only by doing so, they create a new world with more confidence.
LIU Hanzhong, age 19, major in rehabilitation:
This volunteering experience really made me feel that kid's world is so clean, honest and simple. A fine educational system should concentrate on personality-building, then knowledge-teaching.