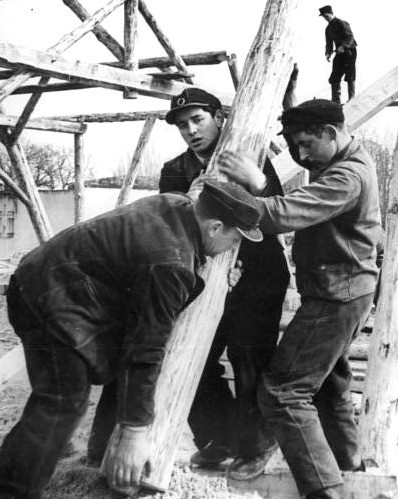 Bundesarchiv, Bild 183-54440-0001 / CC BY-SA
We're delighted to host a free "Wikipedia Barn Raising" event on Saturday July 19th, from 11 a.m. to 4 p.m. Pacific Time, at the Oakland Impact Hub, 2323 Broadway, Oakland, California — or join us online. Lunch and refreshments will be provided for those joining us in person. Please register here.
Since 2012, the Communicate OER project has been working to strengthen Wikipedia's coverage of Open Educational Resources (OER) and related topics. We've worked to build a community around this goal — at conferences in the field, through our online "Writing Wikipedia Articles" (WIKISOO) course with School of Open, and through the formation of WikiProject Open.
At the Barn Raising, we will focus on high priority Wikipedia articles: articles that are widely read, but that — despite ongoing efforts — remain poorly sourced, incomplete, or out of date. (In the wiki world, we often borrow the term "Barn Raising" to evoke the idea of a community coming together to build something substantial in a short time. It's been described as a way to "make the impossible possible.")
Please register here, whether you are attending virtually or in person. Further event information is available online.
This event is open to all! Our goal is to make significant improvements to OER related articles; so those who are brand new to Wikipedia and/or open education might want to take a little time to prepare. We will send out helpful resources for beginners as the date gets closer.
We look forward to seeing you, online or in person, and to raising a wiki barn with you!
Pete Forsyth
Sara Frank Bristow
Communicate OER/WikiProject Open
---
Suggested tweet:
Join the Wiki Barn Raising July 19! We'll be improving #Wikipedia articles on #OER, online & in person. http://enwp.org/WP:WikiProject_Open_Barn_Raising_2104 #OERBARN
Communicate OER is funded by the William and Flora Hewlett Foundation.